Why Choose Well Site Guard Oil Spill Containment Equipment?
Revolutionizing Oil Spill Containment Equipment
When Well Site Guard entered the market, oil spill containment units, to us, seemed substandard. Most of these units used plastic basins that could crack and caulking not designed for oily conditions.
We intended to change that and find a far stronger solution that would benefit the industry, the communities it works in and the environment. We wanted to create a win-win-win.
During research and development, our engineers interviewed operators all over North America, asking what features and benefits they would like to see in oil spill containment equipment. We listened for a full 10 years, gaining a great deal of valuable insight as we perfected our solution.
The State of the Industry and Containing Oil Spills
Since the first days of oil and gas production, foremen, operators and producers have expended considerable resources cleaning up leaks and spills at the wellhead.
Meanwhile, environmental concerns continue to rise. The need to stop contamination of our groundwater, streams and waterways grows more pressing. And despite our response in the form of new technologies and controls, today's media focuses not on the good we do but the few failures we have.
The oil and gas industry require a social license to operate. Positive public perception has diminished through the years, and we must adapt to a higher standard to reduce our environmental footprint.
The Environmental Stewardship Challenge
No production site can avoid wellhead leakage. Stuffing box seals wear over time through repetitive polished-rod motion or premature seal failure from contaminants and manufacturing defects. Even a small leak can lead to these direct and indirect costs:
Clean-up
Environmental damage
Higher premiums for liability coverage
Fines from regulatory agencies
Production loss
Increased staff turnover as discouraged employees leave
Hiring and training time for replacement workers
Salaries of recovery and replacement workers
Damage to your community reputation and company profile
Our Oil Spill Containment Equipment
Well Site Guard Ltd. provides premier solutions for clean, efficient, complete oil spill containment. We engineer and design our reliable, high-quality wellhead units to meet and exceed the needs of North American oil producers.
With Well Site Guard, environmental stewardship does not result in high expenses associated with containing oil spills. In addition, our units include many productivity-boosting features:
10-minute installation
Built with durable materials that last indefinitely
No restriction for simple wellhead-packing replacement
Failure-free in extreme heat and cold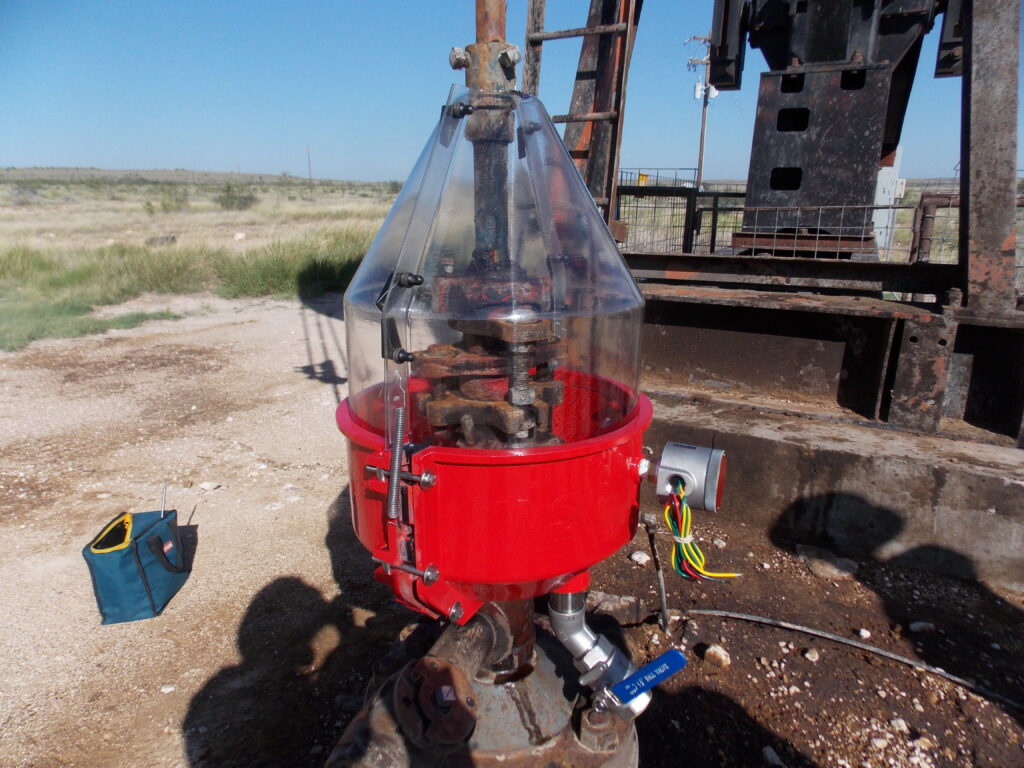 Stuffing boxes do leak
Spill cleanups deplete operator resources
Real potential for regulatory fines
Corporate image at risk
Untimely repairs
Reduced production
Staff turnover
Captured leaks
Operators focused on production
Regulatory compliance – no fines
Improved environmental stewardship
Easier reputation management
Less downtime
Lower recruitment costs
North American Oil Producers Using Wellsite Guard
Anadarko
Angle
Apache
ARC
Arsenal
Baytex
Bellatrix
Bill Barrett
Bonavista
Breitburn
Brigham
British Petrolium – BP
California Resource Corporation
Cenovus
Chesapeake
Chevron
CIMAREX
CNRL
Concho
ConocoPhillips
Continental
Corex
Corval
Crescent Point
Crest Energy
Daylight
Denbury
Devon
Encino
Enduro
Enerplus
Enervest
EOG
EQT
Federated CO-OP
Fidelity
Forest
Foundation
GMX
Halcon
Hess
Highmark Exploration
Hunt
Husky
Jones Energy
Kinder Morgan


Kodiak
Lariat
Legacy
Liberty
Lightstream
LINN
Mewbourne
Muirfield Energy
Oasis
OXY
Nadel & Gussman
Newfield
NPR
Paradise
PDC
Pengrowth z
Pennwest
Pioneer
QEP
Range Resources
Ravenwood Oil
Red Beds
RSP
Samson
SandRidge
Sanguine Exploration
Sequel
Sheridan
Slawson
SM Energy
STAT Oil
Talisman
TAQA
TORC
Trilogy
Tundra
UNIT
Vermillion
Whiting
Williston Hunter
WPX Energy
XTO
Zargon
Zavanna